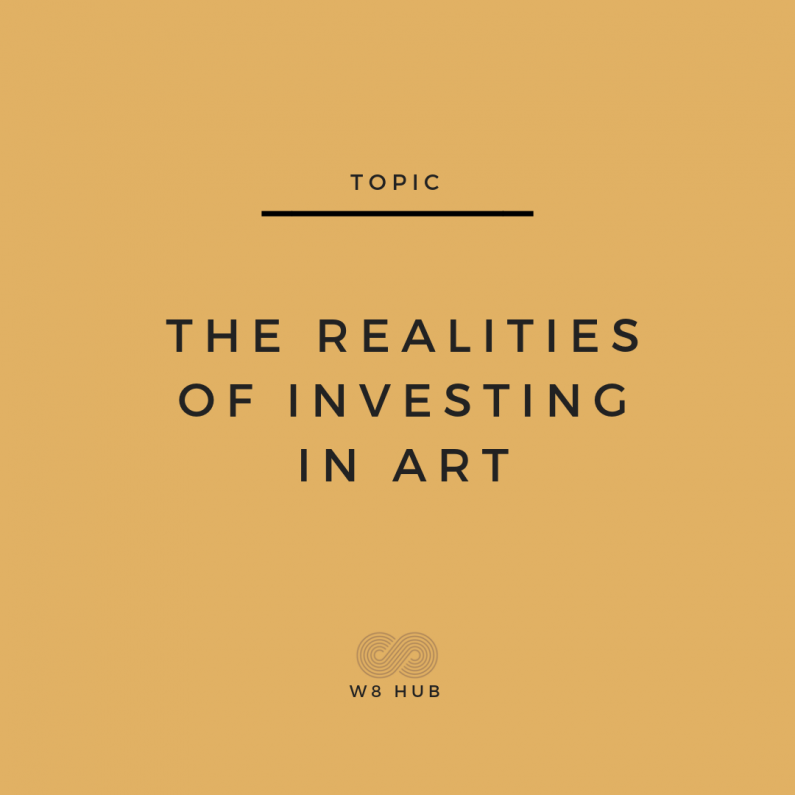 Investing in art is a great way to diversify your portfolio. Diversifying your portfolio is important for building wealth in the long-term. It allows you to spread risk to protect against any possible economic instability. Investing in art that will accrue value, however, is very different from investing in traditional stocks and bonds. Hence, as a budding investor, there are a number of things you need to know before embarking on this journey. 
The international market has shown exponential growth in the last ten years and some artwork prices (especially of African art) have almost doubled when sold at auctions during this period. This is supported by a strong demand in art from "emerging" markets like China and South Africa increasingly attracting the attention of collectors worldwide.
Choosing your artwork is a very personal choice. In order to choose "well" we have gathered some useful tips:
TIP 1 -  PROVENANCE
Firstly, traceability is very important. In order to avoid unpleasant surprises, you must always ensure to have a certificate of authenticity of the work you intend to acquire. This certificate can be given to you by the gallerist, the official representative of the artist, or the artist himself. You should be aware of the issues surrounding authenticity, title and condition of the artwork at the time of purchase. It is important to guard against forgeries by getting a Certificate of Authenticity (COA) to protect your investment. 
TIP 2 -  ESTABLISHED  VS EMERGING ARTIST 
As an investor you need to understand the type of artist you are looking to invest in. There are generally two types of artists: The Established artist who has international recognition and a solid customer base will have a critical bibliography and scholarly comments of his artwork published.  The Emerging artist on the other hand might have a more local exposure with fewer international exhibitions, but – when represented by a gallery – is starting to receive recognition.  Budding collectors often feel more comfortable starting with Emerging artists, because there is a better chance of getting impressive returns on the art in the long term, compared with buying Established (and often expensive) artists. You may think that you do not have the art sensibilities or knowledge to unearth the next Basquiat or Picasso, but you can have a good idea of the future prospects of an Emerging artist by researching what collections and galleries their works feature in, what collaborations they have done and the type of publicity they are receiving. This will help you understand the artist's catalogue listing and the likelihood of their work appreciating in the future. 
TIP 3:  PRIMARY VS SECONDARY ART MARKET
When researching the artists you want to invest in, it is important to know the distinction between the primary and the secondary market. The primary market is where the first sale of a piece of art occurs while the secondary market constitutes all resales of an artwork. These include auction houses and private sales. Understanding the distinction between the two is important to you as an investor because the primary market shows you the benchmark price for an artist. The secondary market is where the price of the art increases dramatically, often signaling a rise in demand for an artist's work. It is also where the price of an artist's work decreases or stagnates depending on career trajectory, demand and supply. This is the market you would sell and seek to receive returns on your investments in as an art investor. 
Additionally, as an art investor, it is important to note that buying art is a lot easier than selling. Once galleries sell an artwork, they are very unlikely to want to sell it again as they'll make more money selling new art. Similarly, auction houses are hesitant to sell work from emerging artists. This means that you have to wait a while before you can get any significant returns on your investment, especially when investing in emerging artists. 
TIP 4 :  GAIN ACCESS TO IMPORTANT TIPS AND INFORMATION
Regulation in the art market across the world is inconsistent and this may pose issues for potential collectors. The market comprises of private art galleries, individual collectors, and artists who pass information between each other. The trick is to know all the important events about to happen in the art world and to follow or predict the trajectory of an artist's career, as a means of anticipating the price (increase) of the artwork.  This is the 'science' behind the speculative art market, which is fraught with risk at any time.  Those with 'inside information' or well researched knowledge of the market can make the right moves in anticipation of the market fluctuation. Those in possession of market-moving information are free to use it for personal gain in the art industry. Being an art market insider with access to important tips and whispers has always been, and will likely continue to be, an important determinant of returns. Those without this privileged access are at a significant disadvantage. 
TIP 5: ENJOY THE ART YOU ACQUIRE!
As with any investment, investing in art requires you to do research. However, you should buy art that you enjoy first and foremost with an awareness of how it can benefit you in the long run. Although the art world can seem daunting, you can purchase works which will appreciate in capital whilst also being visually stunning assets for you and your family to enjoy.