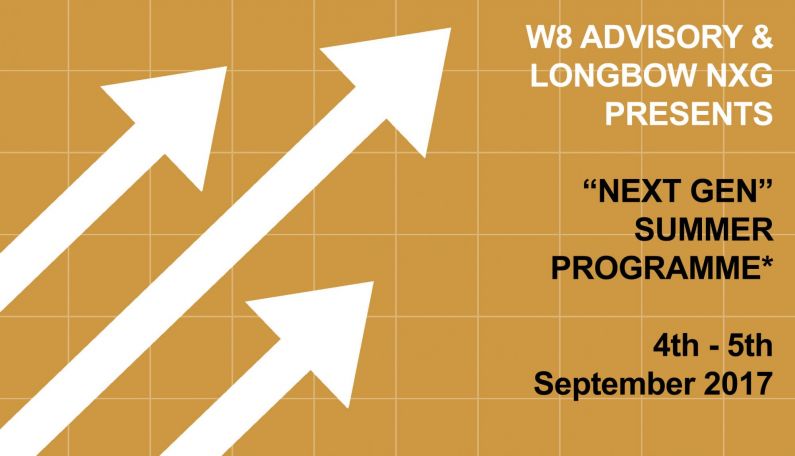 "The most important business of one generation is the raising of the next generation. Nothing else you do in life will be as deeply satisfying." - George Wills
W8 ADVISORY AND LONGBOW NXG have collaborated to deliver a NEXTGEN Summer Programme in London, targeted at young adults who represent the 'Next Generation' of affluent families (who own or manage significant businesses).
 *WITH SUPPORT & PARTICIPATION FROM KPMG (UK)*
DEADLINE FOR RECEIVING REGISTRATION FORM & PAYMENT: 21ST AUGUST 2017
 Why
The long term success of a family ultimately rests with the ability of the younger generation to find its place and voice so that it can continue the family legacy while also stewarding and creating wealth. To do this, the family must determine a way to provide the Next Generation with the opportunity, tools and encouragement to develop.
The Goal of this Programme is to START THE CONVERSATION with the Next Generation on various issues that influence their attitudes to wealth, financial matters, careers, entrepreneurship, leadership and start to build relationships and networks that will support their growth and development.
How
This is a 2 day programme bringing together participants and programme facilitators with a proven track record. We will engage in structured conversations, debate and innovative interactive sessions that will be thought provoking, life enhancing and fun!
Over the 2 days, participants will:
Understand basic personal financial planning
Be more prepared for the reality of living with wealth
Gain an insight into entrepreneurship and planning for start ups
Know how to build their brand and avoid the pitfalls of social media
Increase self-awareness and develop leadership skills
---
 Information
WHEN AND WHERE:
4th September 2017: KPMG Office, 20 Grosvenor Street, LONDON W1K 4QJ
5th September 2017: in SALISBURY, WILTSHIRE: outdoor activities focused around confidence ,assertiveness, decision making, communication, influencing and leadership.
OVERNIGHT ACCOMODATION on 4th September at Milford Hall Hotel & Spa, Salisbury, Wiltshire.
WHO CAN ATTEND
Young adults!
HOW TO APPLY
PRICE: £795 + VAT = £954.00
(To cover all meals, training materials, accommodation and transportation)
THIS IS AN INTRODUCTORY RATE REPRESENTING A 40% DISCOUNT OF THE NORMAL PRICE OF £1500
DEADLINE FOR RECEIVING REGISTRATION FORM & PAYMENT: 21ST AUGUST 2017
---
Programme Outline
DAY 1: KPMG LONDON, 20 GROSVENOR STREET, LONDON
SPEAKERS
Bimpe Nkontchou [W8 Advisory]
Vikash Gupta [W8 Wealth/VaR Capital]
Kedge Martin [LongBow NXG]
Nick Phillis [LongBow NXG]
Anna Kuusela [KPMG Boxwood]
Bina Mehta [Partner KPMG]
Ken McCracken [Head, Family Business Consulting, KPMG]
FINANCIAL EDUCATION: Preparing for the reality of living with and managing wealth / family business
FAMILY DYNAMICS: Wealth and Business Succession Planning
ENTREPRENEURSHIP SKILLS: Business planning for Start Ups
REPUTATION MANAGEMENT: Risks and Opportunities of Social Media
DAY 2: IN SALISBURY, WILTSHIRE
On Monday evening, we travel to Salisbury in Wiltshire (by train) and stay in the lovely Milford Hotel & Spa, to have a lovely dinner in relaxed and comfortable surroundings.
On Tuesday we concentrate on the vital skills of increasing self-awareness, developing leadership and improving communication. Whilst some of these skills can be learnt in a classroom or conference venue, we believe that it is by doing extraordinary activities that we can learn and discover important characteristics about ourselves. We will be on a farm with trained facilitators who use the herding of sheep to build these crucial skills in a fun, yet impactful, way. 
DEADLINE FOR RECEIVING REGISTRATION FORM & PAYMENT: 21ST AUGUST 2017
---
ENQUIRIES
Bimpe Nkontchou
W8 ADVISORY LLP
T: +44 (0) 20 3761 9888
M: +44 (0) 7970 188495
E: EVENTS@W8ADVISORY.COM
Kedge Martin
LONGBOW NXG
T: +44 (0) 207 692 1881
M: + (0) 7779 594 086
E: KMARTIN@LONGBOWFUTURE.COM